"Comeva, your trusted technological partner".
HIGHLY QUALIFIED ENGINEERS
The R&D Department is made up of highly qualified engineers focused on optimizing the production processes of our clients, resulting in reduced personnel costs and performance optimization.
"Join the technological revolution with Comeva"
We aim for Industry 4.0 and have our sights set on Industry 5.0 to ensure our customers achieve the best results. Our wood machinery is equipped with fully integrated automation software, allowing for greater automation and collaborative robotics. This results in improved efficiency, reduced downtime, and increased productivity. With Industry 5.0, the integration of cyber-physical systems and artificial intelligence in manufacturing is essential for continuous improvement and process optimization.
Additionally, our company promotes the development of environmental and social sustainability in production, as well as product and service customization. Ultimately, our company seeks to maximize efficiency, quality, and product customization while ensuring production solutions are sustainable and socially responsible.
"Discover the future with Comeva."
At Comeva, we are aware that innovation is key to remain competitive in the woodworking machinery sector.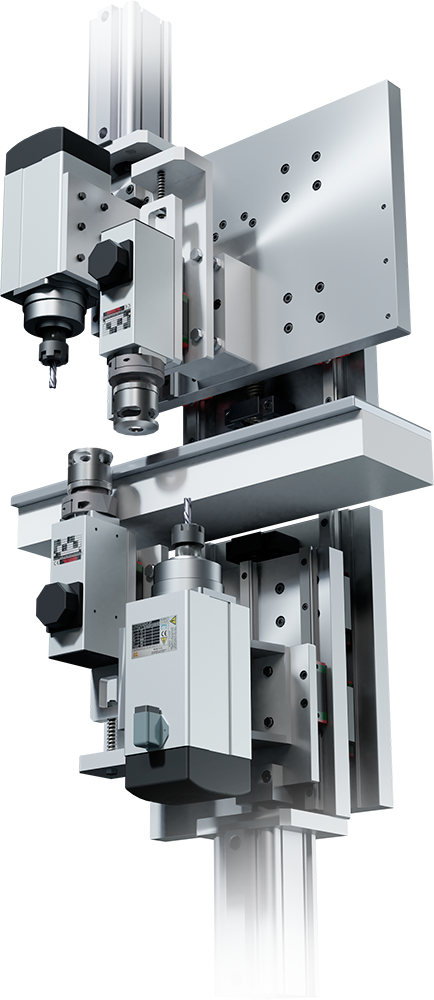 Manufacturing strength, innovation.
That's why our R&D department is a vital component of our organization, focusing on innovation, automation, and optimization of woodworking machinery, ensuring the benefits of the latest advances in automation software for our customers.
At Comeva, we are bringing future technology to our machines.
The R&D department at Comeva plays a fundamental role in the manufacture of woodworking machinery: design.
The design of woodworking machinery plays a crucial role in ensuring that the machinery is efficient, safe, and productive. Our engineers possess a deep understanding of manufacturing processes, intended end-use, and customer needs. Therefore, the designs of our machines are easy to handle, maintain, and repair.
Our R&D team works closely with the customer to ensure that the machinery is designed to meet the desired specifications. The design process starts with identifying needs, followed by conceptualizing the design, creating prototypes, testing, and refinement.
The design of woodworking machinery involves the use of computer-aided design (CAD) software, which allows designers to create 3D models of the machinery, design renders, technical drawings with machine breakdowns, electrical schematics, etc. The CAD software allows designers to test the performance of the machinery under different conditions and make necessary adjustments before the manufacturing process begins. Once the design is finalized, the manufacturing process can begin.
In short, Comeva's R&D department, always at the forefront of Industry 4.0, combines creativity, technical expertise, and attention to detail to create machines that meet our customers' needs.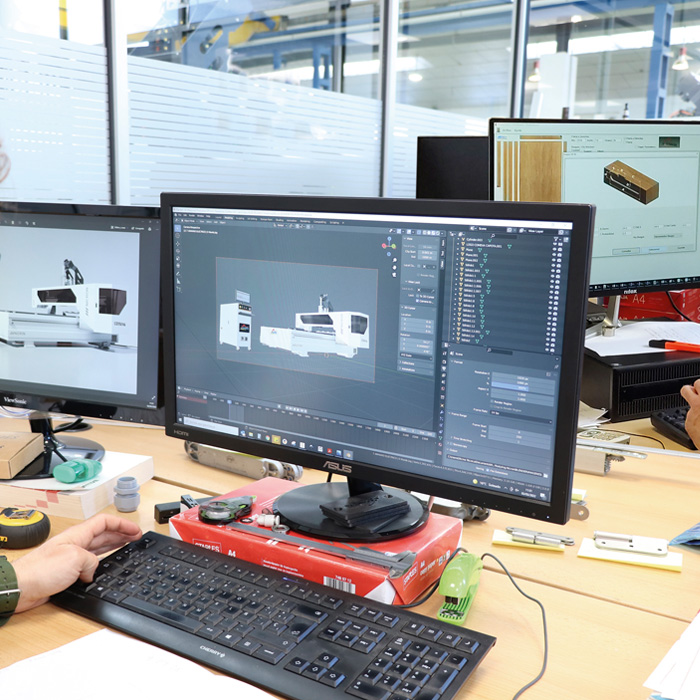 Our R&D department has revolutionized the woodworking industry through the use of advanced software and automation. With our cutting-edge development, we streamline the entire machinery process and provide seamless solutions that optimize productivity and efficiency.
"Our R&D department has revolutionized the woodworking industry."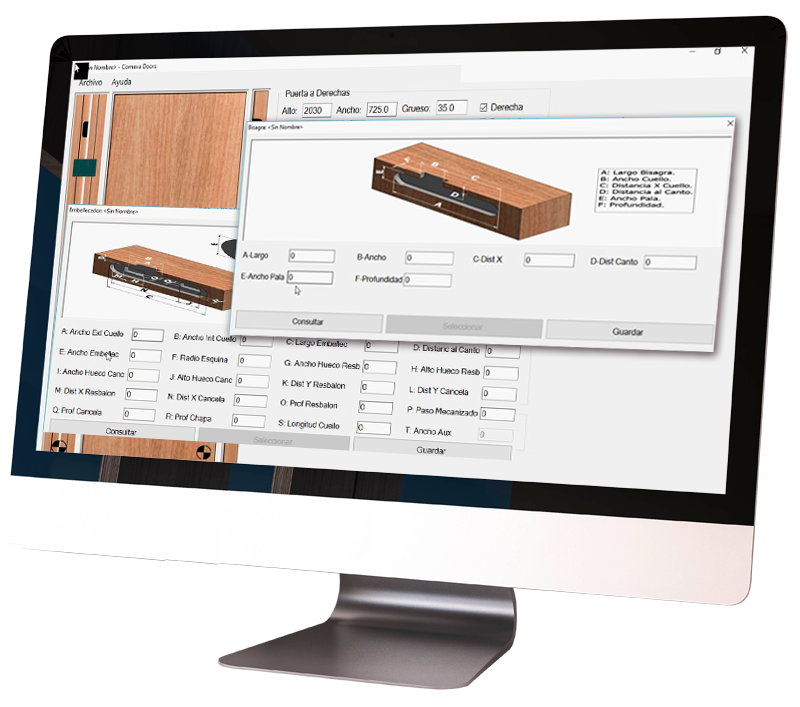 "Comeva Doors" software is a revolutionary program designed by Comeva and specially designed for the machining of doors in a simple, fast, and very intuitive way so that any user can perform all possible machining tasks without depending on complicated programming or drawings.
The software has a series of pre-designed macros that help the user to program the different jobs they want to perform, thus streamlining the design process of a new machining.
 "Comeva Doors" allows the machining of all hinges and locks on the market and also allows the configuration of machining on the upper face of the door.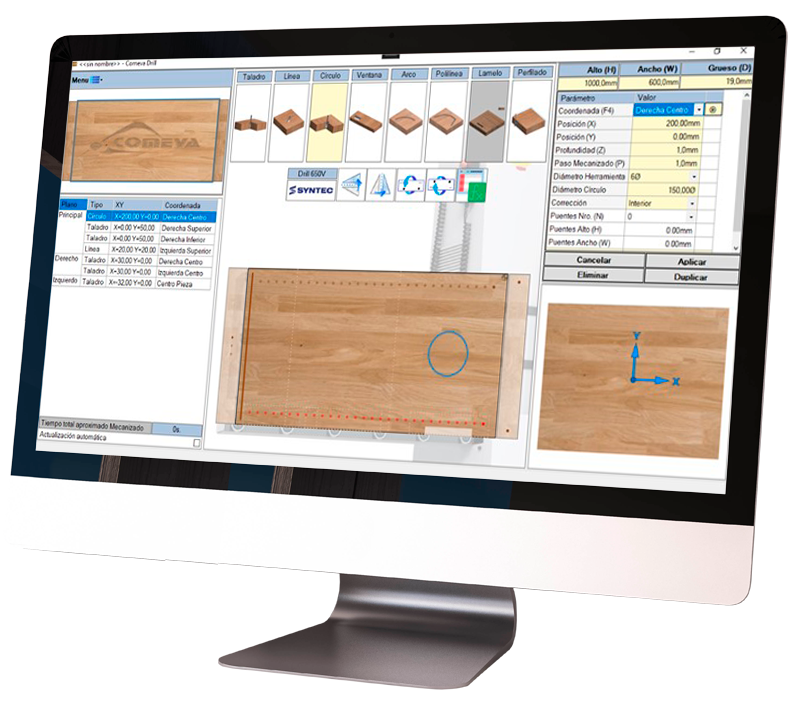 "Comeva Drill" is a parametric software designed for the design and machining of panels, with a friendly and intuitive interface for easy parameterization of the machinings, through a parametric editor.
The software allows assigning dimensions to a panel, adding machinings (drills, lines, circles, etc.), saving them if needed for future use, and generating a G-Code that the CNC can interpret and perform the machinings on a panel.
The editor allows us to machine both the main plane and the edges (right, rear, left, and front), as well as allowing us to machine the rear plane. Depending on the information provided to the application, the edges that can be machined on the indicated machine will be displayed. The software allows loading all the data associated with the latest machinings entered in the editor upon startup, and will save all changes made in the database, which can be reloaded when reopening the software.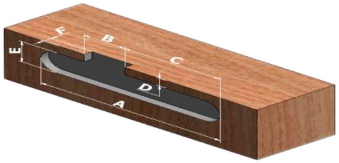 Comeva's R&D department understands that users may want to work with a known software or their own, which is why Comeva designs the necessary post-processor, a key piece in integrating the design software with the production machinery.
This post-processor is responsible for translating the code generated by the software into a language that the machine can understand and execute. This allows the software and the machine to work together efficiently and coordinated, avoiding errors and increasing work precision.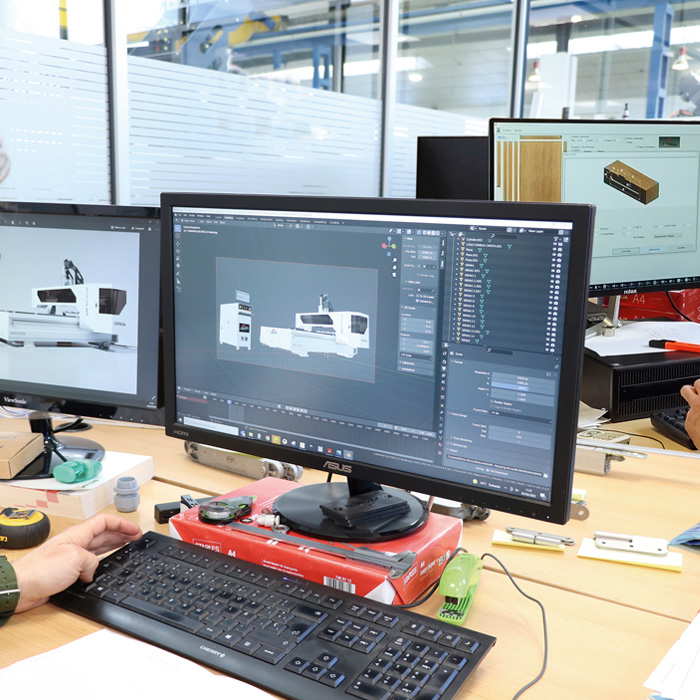 Pegasus
The "Pegasus" software with postprocessor is specially designed for converting jobs into machine language.
Read More
This original software, with a protective backpack included, is capable of translating drawings from image formats such as BMP, JPG, TIF, GIF, PNG, as well as vector files from any Adobe Illustrator, DXF (Auto-CAD), EPS, PLT, TXT format.
"Pegasus" allows direct drawing, image processing, text engraving, number series engraving, repeating traces along a path, and repeating a job in matrix form.
It has a special NESTING function for optimal material utilization.
In its CAM section, it can perform grooving, decide on the tool path, 3D engraving, distribute drillings, work in the form of a prism, engrave photographs, relief engraving, as well as a preview simulation of the work.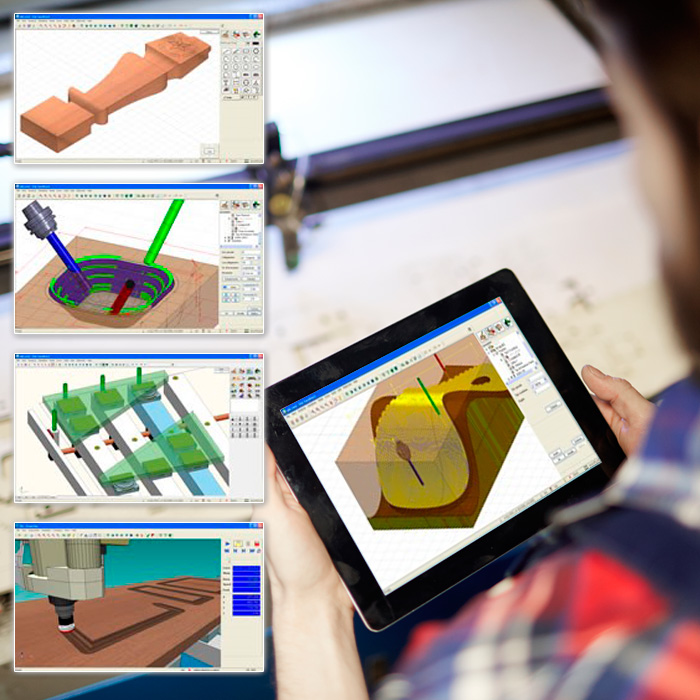 EasyWood
"EasyWood" is the CAD/CAM software specialized in machining wood and related materials using…
Read More
…CNC machining centers.
"EasyWood" is a CAD/CAM software specialized in the machining of wood and related materials through numerical control machining centers.
The software is simple and intuitive, with all functions available "in one click", and can be used even by those without advanced computer skills.
The software performs various functions, including panels, solid wood, True Shape Nesting, 3D modeling and simulation, 2, 4 and 5 axis machining, automatic drawing management, collision control, virtual milling, and many other functions.
"EasyWood" is a complete software that manages every aspect of machining and CNC in a 360° way, avoiding the costs of acquiring, maintaining, and training for further third-party software products.
The software includes an interactive and automatic nesting module for geometric shapes, with labeling. Connected to the EasyBEAM plug-in, it manages jobs for beams, wooden structures, and roofs.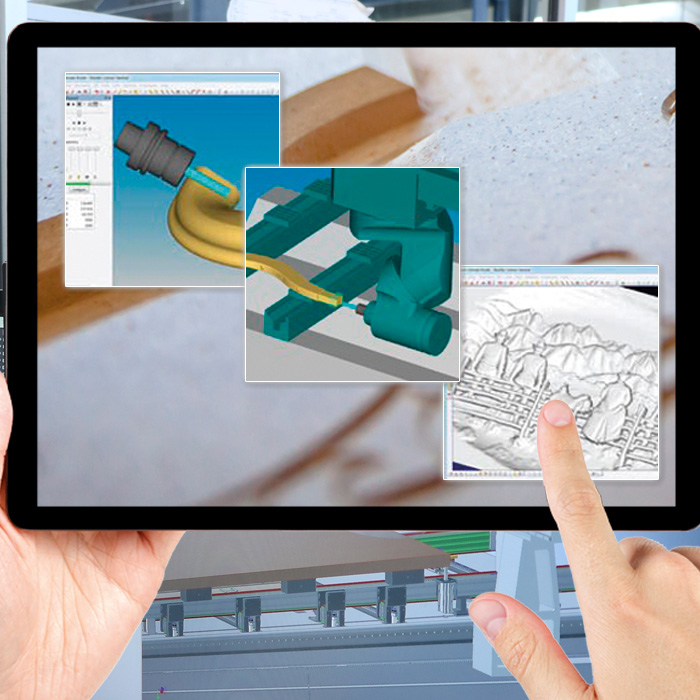 Alphacam
Alphacam is a CNC router programming software that provides a complete CAD/CAM solution. 
Read More
It is easy to use and designed to offer improved productivity, exceptional skill, and additional flexibility in the woodworking industry.
It has unique machining tools and techniques such as aggregate support, plane machining, 3D engraving, and 3D routing.
The program also features a Geometry Constraint Manager for parameterizing geometry and a dedicated Drill Unit. Alphacam Advanced is an add-on module for makers working with shape patterns free and complex tools.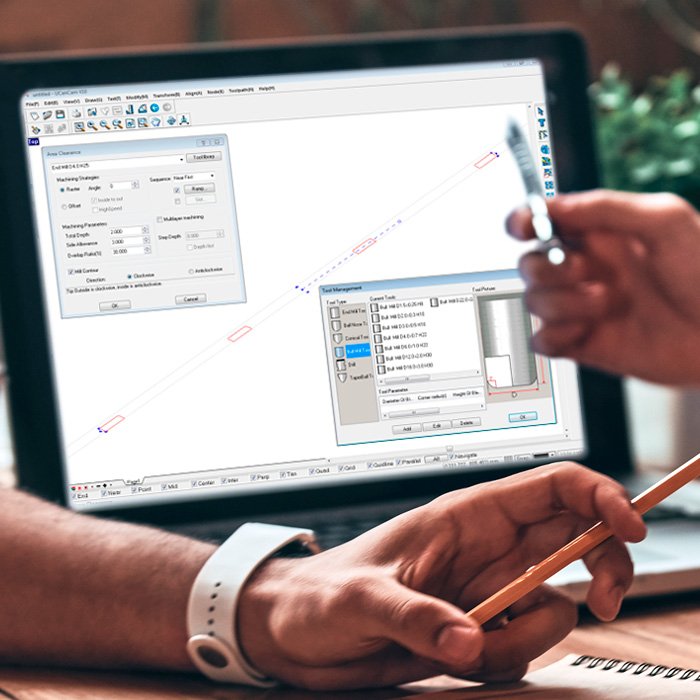 UCANCAM
UCANCAM CAD CAM software (standard version) with a post-processor specially designed for the conversion…
Read More
… of work into machine language.
This original software, with a protection backpack included, is capable of translating drawings from images such as BMP, JPG, TIF, GIF, PNG, as well as vector files from any Adobe illustrator, DXF format, (Autocad), EPS, PLT, TXT.
You can Draw with this software directly, process images, engrave texts, engrave series of numbers, repeat paths along a path, and repeat work in matrix form.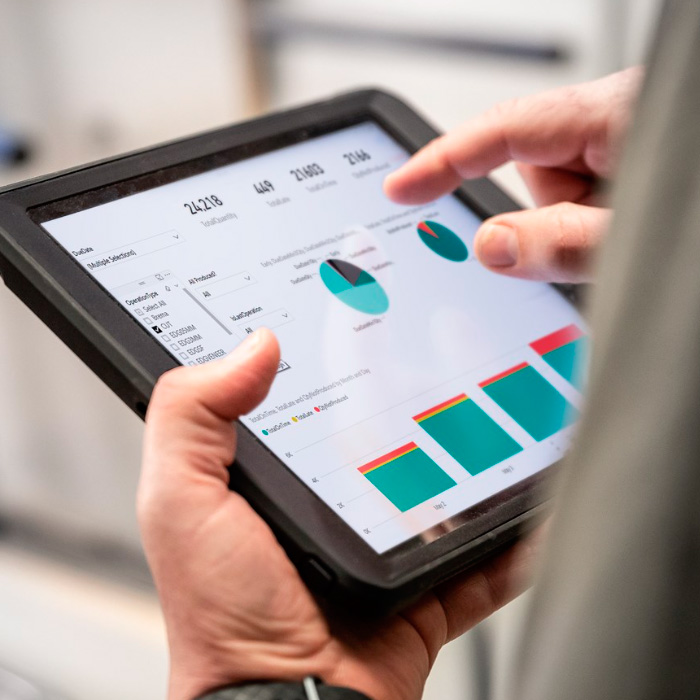 Ardis
La plataforma Ardis es una solución integralmente diseñada para la industria del corte de tablero,…
Read More
… chapa, longitudes y bobinas, que cuenta con una amplia gama de módulos altamente personalizables y potentes. El software de Ardis es fiable, estandarizado y altamente adaptable a cualquier situación.
The modular design of the platform allows Ardis to meet the current needs of its customers, while maintaining a vision for the future. In addition, the different versions of its products make it possible to offer tailor-made solutions for clients of all sizes, from small to medium and large companies, guaranteeing the best support for each of them.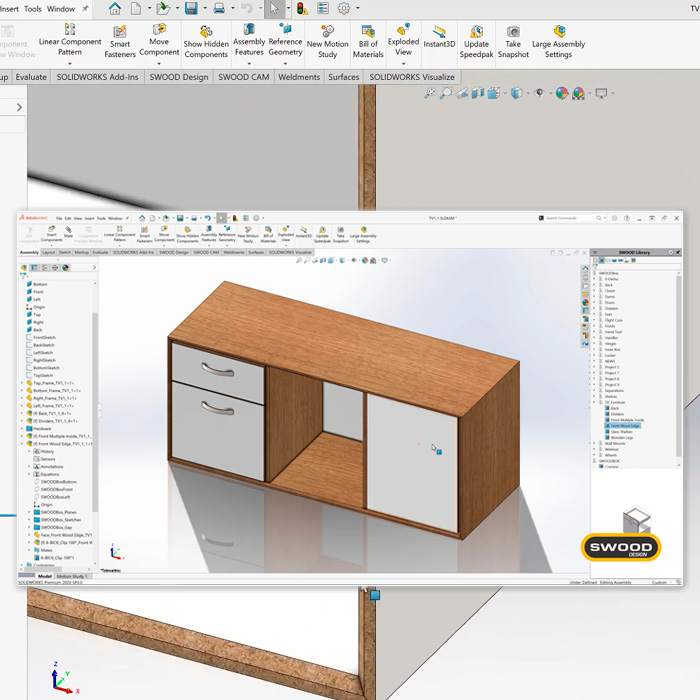 SWOOD Design
SWOOD Design is 3D furniture design software that makes it easy to create production-ready designs.
Read More
Improve the process of designing your furniture and cabinets in a 3D environment using parametric modeling and Insertion of elements by drag and drop.
SWOOD Design, integrated with SOLIDWORKS, offers numerous parametric features to simplify the process of designing your furniture while giving you the most accurate results.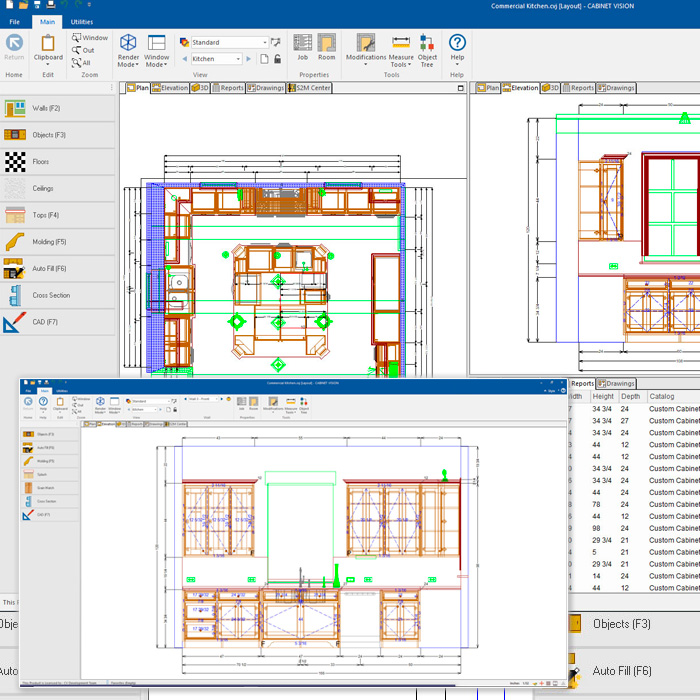 CABINET VISION
CABINET VISION integrates 3D renderings, material requirements, assembly sheets, and cut lists into a single
Read More
system, so you can stay competitive by quickly and accurately estimating the cost of each job and performing track expenses.
Linking the software to the machine, our post-processor automatically updates manufacturing operations after any design changes, saving time and increasing accuracy. It also allows. Create professional reports, layouts, and renderings to share with clients.
Towards the future
with Comeva!
Comeva: your trusted technological partner.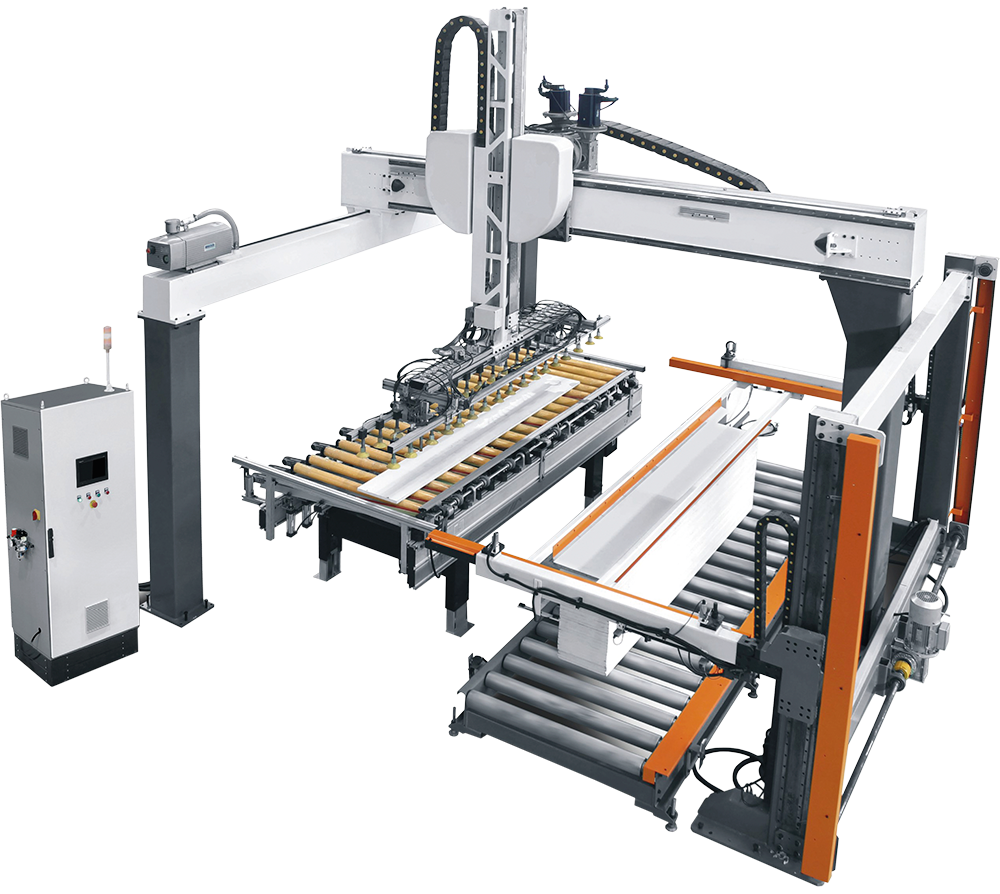 At Comeva, we offer customized and intelligent manufacturing solutions that will help you increase the capacity and profitability of your factory to an optimal level, in addition to lowering costs in all phases of production.
Our state-of-the-art Industry 4.0 machine technology, together with the appropriate software solutions, provides a large number of process automations that have already been implemented all over the world. This guarantees you the highest possible added value for your woodworking machinery.
At Comeva, we understand that each client's requirements are unique and specific. That is why we offer a personalized service that starts from scratch to create the perfect machine or production line that adapts to the needs of our customers.
Our team of experts works closely with customers to understand their production objectives, efficiency goals and operational limitations. From the initial planning phase to final commissioning at the customer's site, we make sure our machines are optimized for maximum efficiency and productivity.
"Choose Comeva as your trusted technological partner!"